HUDWAY is an easy-to-use application for smartphone users that allows drivers to focus on the road in low visible conditions. If it's raining heavily or foggy, driving can be either unpleasant or even very dangerous.
We talked with Ivan Klabukov what makes this project special and what are his plans going forward.
What's the idea behind the HUDWAY App and Glass?
In both cases, it was simplicity and affordability. Both come as an alternative solution to factory HUDs. Both encourage the driver to revise what they already have - a mobile device and a car, - connect them, and opt for a better driving experience with a head-up display in any car they own or rent. Both rely on the same principle of taking what's needed most and leaving out the rest. At least, for a start.
HUDWAY's features, and place in the market
There's been a good video made published by CNET last October.
They give a very clear picture of where the HUD market is now, how rapidly it evolves, and what challenges it faces:
We're starting to get to a point where most of us will at least know someone who's got a head-up display in their car. And that kind of awareness is key to building a market from there." 
HUDWAY's main point is to push the boundaries of common GPS navigation - make it safer, less distracted and more efficient. Generally, head-up displays offer the driver a new way to perceive the situation, to interact with reality. And we tried to make the most of that in HUDWAY app. 
It shows the live route view - no schemes, signs, legends, - and the distance to the next manoeuvre, and the current speed. This is the information you need to make a decision on an unknown road in low visibility, and in each moment you're aware of what's next - a straight run or a sharp bend, - even when it's beyond your visibility.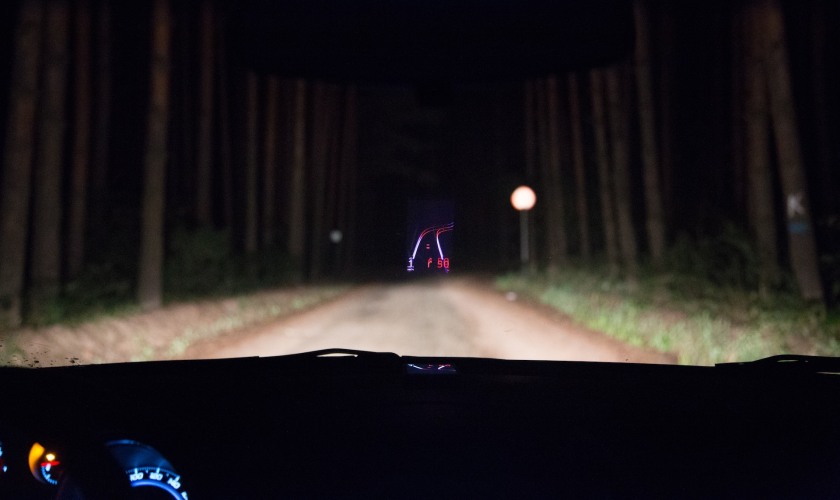 Hudway App at night
We released HUDWAY in August 2013, and since that time spent nothing on marketing. All HUDWAY users come on their own - now it's over 1M. HUDWAY community is very responsive - we owe them timely feedback on the app updates, needed features, and improvements. A lot of users wrote us asking to somehow enable using HUDWAY in daytime when the reflection almost can't be seen. This is why we started working on HUDWAY Glass accessory.
HUDWAY Glass is a phone mount with a high-transparent lens having special coating that removes reflection doubling and allows for better image visibility in daytime. The first generation of HUDWAY Glass features no electronic components - but we have it in mind for later accessory versions. Again, we need the feedback to move in the right direction.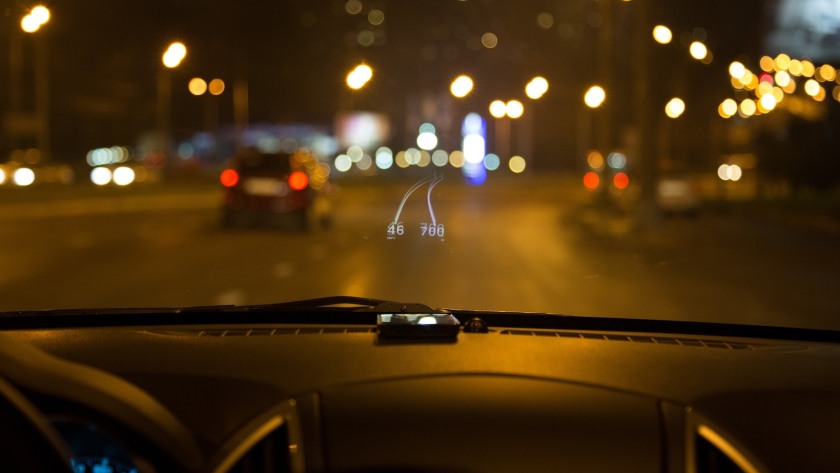 Hudway App at night (city)
What are your plans for HUDWAY? How far along are you in the app's development?
The project team members have rich background - in finance, management, product launching, programming, driving. And the principle "start simple, test, improve" works well everywhere.
On our Facebook page, there's been a question of why stop at navigation, why not create a whole system. In fact, we've just started. We now have the software and hardware in parallel development.
As for the app, we're now working on the offline version, so that we no longer use Google/Apple/OpenStreet maps API to create routes, but instead offer downloadable maps with offline routing and address search. We also plan to add speedcams, speed limit alerts, and POI in the app. It will be a system, indeed :)

Blind driving vs. HUD
When do you plan to officially start selling HUDWAY Glass?
We plan it to be early this fall. We've introduced the accessory prototype this March, on CeBIT in Hannover. This brought us relevant feedback from the industry professionals and proved that the market is ready and demanding for the product we're going to offer.
As for the most recent news, we've got 200+ preorder requests from HUDWAY app users. This week we're launching preorder form on hudwayglass.com and start actually accepting them and billing the customers.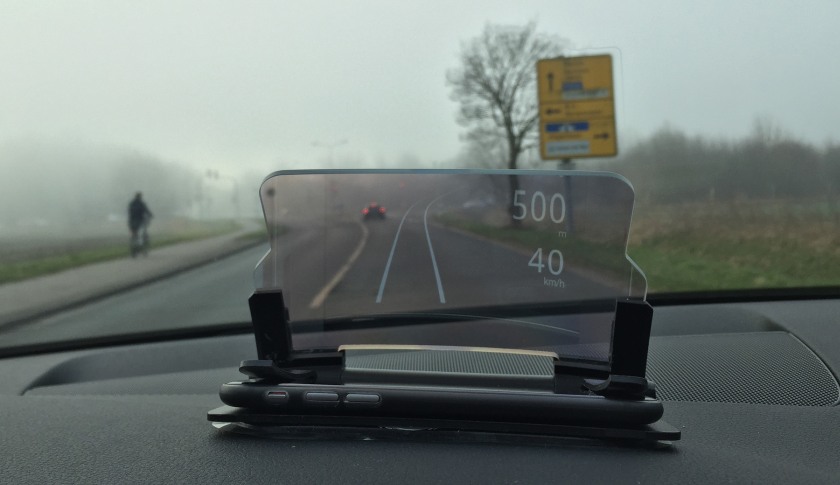 Hudway Glass by day
In the meantime, we have our dispatch list for the test batch of accessories almost complete. This will be a limited batch of 100 samples we'll send for free to our global distributors, partners and journalists to review and give us feedback.
For some time, we had an idea to launch a Kickstarter campaign, but we dropped it. Looks like we don't need it for now.
HUDWAY Glass; sales expectations / forecast
We're optimistic about HUDWAY Glass sales, because we have already discussed distribution across Europe, Asia and the US. Yet, we wouldn't do a forecast or boast large numbers before we actually deliver them.
How much will the HUDWAY Glass cost?
The first generation accessory will cost about $50. Again, we stick to the idea of simple affordable things. What we offer is an aftermarket alternative to expensive factory HUDs.
Yet, that in no way means we're going to sell some ill-designed and chunky piece of plastic. We now heavily invest in R&D to make HUDWAY Glass feel as little aftermarket and alien as possible, while at the same time keeping the price low.
How do you see your future?
Augmented reality, internet of things, everything smart and connected - these things are today's trends, and the awareness about the technologies grow rapidly. A lot of drivers use mobile devices in their cars - either for navigation, or for infotainment.
We feel that we're doing the right product, entering the niche that's anticipated and promising, but relatively empty yet.
---